T-shirts by Nyssa
Support me and my adventures by purchasing an original piece of art, and/or a snazzy t-shirt or mouse pad.
I need to fill my eyes and brain with the art, museums, cathedrals, ruins, languages, books, and foods of the world. Buying a t-shirt will make it easier for me to see the world again and to interpret it in a graphical way, that you may enjoy.
Strength T-shirt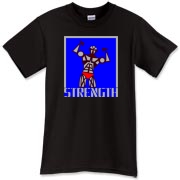 This shirt is for the person who loves working out AND the person who hates it. It is a celebration of exercise and muscles. If you love exercise, you should buy this shirt to show the world about how proud you are of your muscles and your strength. It even comes in a tank top!
If you hate exercise, this shirt is an inspiration of what happens when you stick to a strength training program. Wear this shirt to remind yourself of the awesome benefits of being strong. Whenever you don't feel like exercising, put this shirt on, and you will go out and kick some serious exercise butt!
Heat T-shirt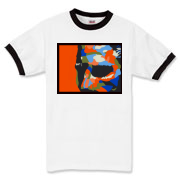 You've read about what I was thinking when I created this image… "It's about heat and being hot. Sometimes, you can get so hot that you start hallucinating colors. This reminds me of the unbearable, brutal feeling of being outside during a burning, hot Texas day, where your brain gets scrambled and you can't see straight."
If you live in a cold climate, wearing this shirt may keep you warm! 😉 It's a great winter shirt, as it is a beacon of hope that the sun will rise again.
If you live in a hot climate, this shirt will remind you of the beauty of a blazingly hot day. It's great in the summer, because you will be a red-hot conversation starter with this shirt. Instead of talking about the weather, wear a statement about it. Yeah, it's hot out there, and in here… because I'm wearing this shirt (heh-heh).
Tree of Lost Souls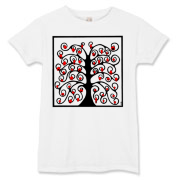 Ah, this is a shirt that all my friends love. Back in the old days of silk-screening t-shirts, I was always limited by the numbers of shirts printed. These shirts went fast. And my friends always wanted one more.
This shirt is an artistic statement. It is mysterious and striking. People always want to know what it means and where you got it. I was thinking about the Tree of Life, and then I began to think about the other kinds of trees that should exist in mythology, like the Tree of Lost Souls.
Not only is this shirt great to wear, but it also makes a great present.
Robot Head T-shirt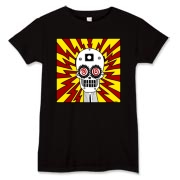 Admit it! You know you loooove Robots… and you've waited years for a shirt that would properly shout your love of robots from the rooftops. Well, wait no more. My friend, this is the shirt that professes your Robot Love. This shirt is an eye-catching, mind-buzzing, eye-twisting experience. When I wear mine, I always get complimented. It's a conversation starter! People will know where you stand when it comes to Robots. Buy yours now.
Robot Head Mouse Pad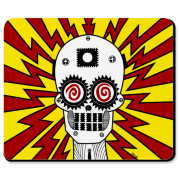 Robot Head Mouse pad Improve your Internet surfing with this insanely bright AND stylish mouse pad. It is topped with a durable cloth and has a rubber backing to prevent sliding during enthusiastic mousing. The ultra fine surface improves mouse tracking.
* Specs: 1/4″ thickness,Machine washable,Perfect for optical, laser, or roller mice
* 100% satisfaction guarantee